The United States Coast Guard imposed a fine of $98,364 to a Charter operator in Destin, Florida recently for violating federal law. After numerous violations of 46 C.F.R. 176.100(a), the operator failed to provide a Certification of Inspection for a vessel carrying more than 6 passengers, along with failing to comply with a Captain of the Port Order.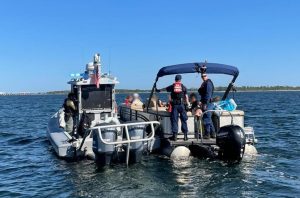 Photo from U.S Coast Guard District 8
By federal law a legal chartered boat (for hire) must have a credentialed master aboard, along with a license on board. If carrying more than 6 passengers, a Certification of Inspection issued by the Coast Guard with a Coast Guard decal on the outside of the vessel. The Coast Guard, in the interest of public safety, urges everyone to consider these details when looking to book a charter. "It is a top priority for Sector Mobile to ensure charter vessels operate safely and in full compliance with the law. The Coast Guard, along with our state and local law enforcement partners, will continue to educate the public and vigorously pursue those individuals who violate the statutory and regulatory requirements of the Passenger Vessel Safety Act" as stated by Capt. Ulysses Mullins, Commander of Coast Guard Sector Mobile.